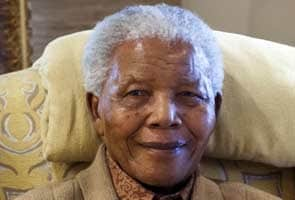 Johannesburg:
South Africans said prayers during Easter Sunday church services for ailing Nelson Mandela who was spending his fourth day in hospital being treated for recurring pneumonia.
At a packed Regina Mundi Roman Catholic Church in Soweto, a former pivotal point in the resistance against apartheid, believers were asked to pray for his recovery.
"Yes, we are concerned that he is ailing, and he is getting worse, naturally we should be concerned," Father Sebastian Rossouw, an assistant parish priest, told an Easter Sunday service.
"But I think at this time rather pray that God should heal him but also to remember what he stood for, and continues to stand for."
The frail 94-year-old, one of the towering figures of modern history, was admitted late Wednesday for his third hospitalisation in four months.
Doctors drained a build-up of fluid, known as a pleural effusion or "water on the lungs", that had developed from the lung infection.
"I think many of us are concerned, and I think this is the question in the back of many of our minds, when is the end? Is he going to die? " said Rossouw at the Regina Mundi church which had given shelter to anti-apartheid activists.
"As I said, that is not what we should concern ourselves with. We should rather celebrate what he stood for, and what he continues to stand for, that he has been an icon of peace, an icon of service," Rossouw told thousands of parishioners at Soweto's largest Catholic Church.
It was unclear how long South Africa's first black president would remain hospitalised.
Phigile Mlotshwa, a parishioner said, "Mandela is in our thoughts everyday, for all of us. For all of us every day."