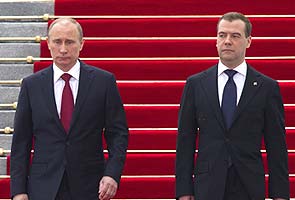 Moscow:
Russia's new President Vladimir Putin was set on Tuesday to win approval for his predecessor Dmitry Medvedev to become the Prime Minister, as protestors tried new tactics to keep up pressure on the Kremlin.
Mr Medvedev's candidacy was to come to vote at the Parliament with the support of the ruling party and one nominally opposition faction guaranteeing approval, even as two parties were to vote against in a symbolic show of dissent.
Following Mr Putin's opulent inaugural ceremony that saw him ascend to the Presidency for a historic third term on Monday, several hundred activists had spent the night out in the open in central Moscow barely a kilometre (half a mile) from the Kremlin walls.
Both leaders of the protest, anti-corruption blogger Alexei Navalny and leftist activist Sergei Udaltsov, were detained but released later on Tuesday.
The newly inaugurated Kremlin Chief had already hit the ground running by signing a raft of decrees and even took part in an ice hockey match watched over by his old friends, ex-Italian Prime Minister Silvio Berlusconi and German ex-chancellor Gerhard Schroeder.
Mr Putin had served as Medvedev's Prime Minister after ceding his Kremlin seat upon completing between 2000 and 2008 his first two terms as president, the maximum number of consecutive mandates allowed under the constitution.
The ruling tandem's private decision to trade places fed into the anger many Russians experienced about fraud-tainted legislative polls in December followed by Putin's easy but controversial March Presidential election victory.
Mr Medvedev's confirmation at a hearing scheduled for 1100 GMT is essentially assured after both the ruling United Russia party that he now heads and a largely pro-government bloc of the ultra-nationalist lawmaker Vladimir Zhirinovsky committed their full support.
Mr Medvedev now has the backing of nearly 300 lawmakers in the 450-seat chamber while needing a simple 226 vote majority to become Putin's premier. The Communist Party and the A Just Russia Party said they would vote against.
Police have said they have made almost 750 arrests since Sunday in Moscow as opposition protestors defied a heavy riot police lockdown in the city.
Several hundred people had joined the sit-in overnight, making a point of not brandishing a single political slogan. They were not disturbed by police. By the morning 100 people were left but police then moved in to disperse the picket.
"We spent the night out here because it is the only way to show that we too have something to say," said student Nikita Safanov, 20.
Spending the night in the open appears to be a new tactic by the opposition, whose more radical wing has called for civil disobedience to ensure their voice is heard. Navalny had described the action as an "indefinite popular walkabout".
"I awfully want to sleep," Navalny said in a Twitter post. "Two nights without sleep. Last night I slept at Kitai Gorod, and the day before at Yakimanka," he said, referring to police stations in central Moscow. "And it would be so good to take a shower."
After their release, Navalny and Udaltsov immediately went to the Chistye Prudi district in the east of the city centre where several dozen supporters were waiting for them to begin a new picket.
After Sunday's mass anti-Putin protest that ended in violence and bickering between the opposition, Navalny and Udaltsov appear to be preparing to hold repeated small-scale pickets in a cat-and-mouse game with police.