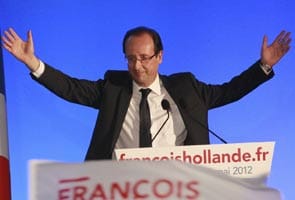 Paris:
It was a long night of celebrations in Paris after François Hollande's victory. People thronged the streets to watch his motorcade pass. His first speech as President at Tulle in the centre of France, minutes after the results were announced, was greeted with deafening cheers. Mr Hollande arrived in Paris late at night and was greeted by cheering crowds at the Bastille square.
Mr Hollande could take office as early as May 16. He will be heading to the US on May 18 for the G-8 summit where he will be meeting President Obama. He will also be attending the NATO summit in Chicago, which Mr Hollande's team said he had been meticulously preparing for even before the results. Mr Hollande has been firm about wanting to get French troops back from Afghanistan this year.
In his first speech as President, Mr Hollande said "All eyes in Europe are on France. Austerity can no longer be a solution." Mr Hollande's proposals on how the sovereign debt crisis should be handled has been a subject of controversy, but in the last few days there have been signs from the European Central Bank President Mario Draghi as well as German chancellor Angela Merkel that Europe will have a new growth pact.
Mr Hollande said he would increase the number of teaching jobs by more than 60,000, something that his critics have said is not a good idea. Mr Hollande however says he will focus on the youth "so that our children can have better lives than ours." His politics towards those of immigrant origin he says will not be divisive. "No child of the republic will be abandoned... or discriminated against" he said. In the crowds celebrating his win in Paris there were a significant number of people of all colours and of different origins as well.
François Hollande wants to legalise same sex marriage and adoption by homosexual couples. He also wants in to bring in a law that would allow medical assistance to end life. He has even spoken of creating a ministry for women's rights. Mr Hollande will be phasing nuclear energy in France by half. He has also said the Arcelor Mittal site in Florange in the north of France will not shut down. This sounds similar to the promise Mr Sarkozy made about another Arcelor Mittal site in Gandrange, a promise the outgoing President could not deliver.
Jean Louis Bianco, a senior socialist MP told NDTV that François Hollande will support India's permanent membership at the UNSC. Mr Bianco says Mr Hollande also believes the IMF should not be led by a European or an American necessarily. Christophe Jaffrelot, analyst at the CNRS research centre, says the magnitude of the Indo-French relationship is likely to change if the deals of the 126 Rafales and the Areva reactors come through. Mr Jaffrelot believes the French need to recognise that it cannot be business as usual if these deals come through and that the Indo-French relationship will have to move to a higher gear, something the French are yet to realise.
The new French President had for long been underestimated by both his own party and his rivals. During the campaign that led to his win, he came across as cool yet combative. He was the first one to come up with a comprehensive 60 point agenda. He did not add anything to it during the course of the campaign, sticking to what he started out with despite the attacks and the criticism.
Many of Mr Hollande's supporters have been saying that he will make them proud of the way people will see France. They said even if Mr Hollande will not be able to deliver miracles, he will be a "dignified" president. Once the euphoria dies out, however, François Hollande will have a tough task ahead of him. France's economy is not in good shape and its new president will have to come with solutions quite fast.