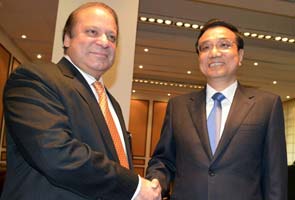 Islamabad:
Chinese Premier Li Keqiang today invited Pakistan's incoming PM Nawaz Sharif to visit Beijing and reiterated a promise to strengthen economic ties.
Mr Sharif, whose Pakistan Muslim League-N (PML-N) party secured a convincing victory in the May 11 general election but who has yet to take office, said it would be a "personal honour" to accept Li's invitation.
Mr Li, on the final day of a short visit to China's neighbour and long-time ally, told the Senate Beijing was ready to speed up work to improve the Karakorum Highway, which links the two countries.
"We want to not only expand our trade relations but also achieve dynamic balance in our trade," he told senators after holding talks with Sharif and senior PML-N leaders.
On Wednesday Mr Li linked Pakistani development with that in China's restive western region and said he wanted to create an "economic corridor" between the two countries.
China took charge of the southwestern Pakistani port of Gwadar earlier this year, which would give it access to the Arabian Sea and provide a shorter transit route for Gulf oil in one direction and Chinese goods in the other.
But any route to Gwadar lies through the province of Baluchistan, which is plagued by separatist and religious violence.
The region's precarious security situation was thrown into sharp relief today as a rickshaw bomb targeting security forces in the Baluchistan capital Quetta killed at least 12 people as Li prepared to make his senate address.
Aside from Pakistan's ongoing problems with violent Islamist militants, the new PML-N government also faces major challenges as it seeks to revitalise the ailing economy.
Weak growth, inflation, dwindling foreign exchange reserves and a crippling energy crisis are all pressing concerns for Sharif, who is expected to assume office in early June.
Mr Li said China was keen to "launch major projects of cooperation, enhance financial and investment cooperation" with Pakistan.
Trade between China and Pakistan hit an annual 12 billion dollars for the first time last year, according to Islamabad's foreign ministry, and the two sides plan to raise this to 15 billion dollars in the next two to three years.