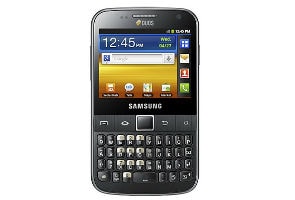 Samsung announced the launch of its first ever dual-SIM smartphones in the Indian market - the Galaxy Ace Duos (SCH-i589), Galaxy Y Pro Duos (GT B5512) and Galaxy Y Duos (GT-S6102). With the new range of dual SIM smartphones, Samsung aims to re-define the smartphone experience of users by offering them the convenience and savings of two mobiles in one handset.
The Samsung Galaxy Ace Duos (SCH-i589) is a powerful device which provides a user-friendly and comfortable experience. It comes with dual-SIM Dual Active technology that allows consumers to be available on CDMA and GSM numbers, all the time.
With an 832MHz processor, the device offers users fast data processing speed and the ability to use multiple applications at the same time. Based on the Android 2.3 Gingerbread OS, Samsung Ace Duos users can download over 250,000+ applications.
The device has a 3.5" display, EvDO Rev A capability - which enables data download at super fast speeds of 3.1Mbps over CDMA network. Galaxy Ace Duos comes with a powerful 1,650mAh battery which allows the users to enjoy 7 hours of talktime. The Samsung Galaxy Ace Duos is priced at Rs. 16,900.
The Galaxy Y Pro Duos (GT B5512) is the 1st Android-based dual SIM QWERTY bar device. With WiFi direct and Bluetooth 3.0 support, the device offers improved connectivity with Touch + QWERTY Key Pad and an optical track pad. With the increasing demand of staying connected, the device supports Social Hub Premium that enables the user to stay connected with their companions.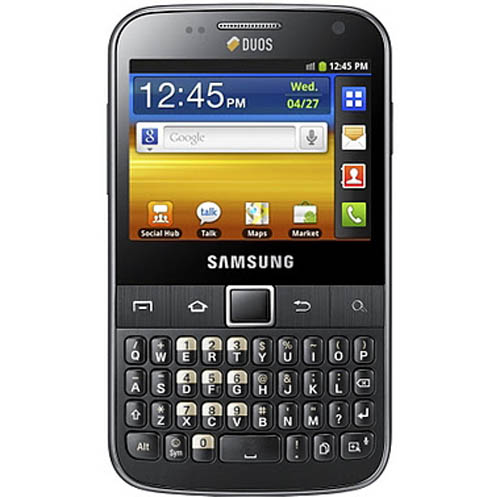 With a 2.6" capacitive touch screen, 3MP front-facing with VGA Video Telephony Camera and a 1,350 mAh battery, the Samsung Galaxy Y Pro is priced at Rs. 11,090.
Samsung Galaxy Y Duos (GT-S6102) is Samsung's 1st full touch dual SIM device running on Android 2.3 Gingerbread. The Galaxy Y Duos offers the users the opportunity to use the device for both data & call simultaneously. The device comes pre-installed with Social Hub and Samsung messenger, ChatON. With optimized user experience for resolution, a 3.14" Screen and an 832 MHz Processor, the device performs well. The Galaxy Y Duos is priced at Rs. 10,490.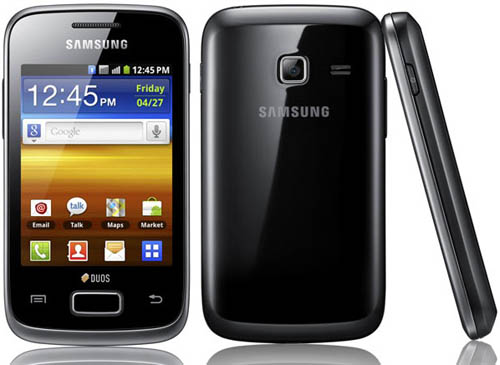 With the launch of these smartphones, Samsung has a range of 16 smartphone models priced in the range between Rs. 7,360 to Rs. 38,250.
Samsung also announced 2 dual SIM feature phones.