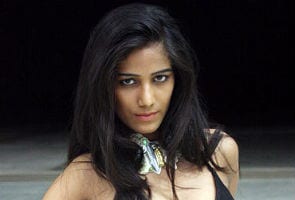 Twitterati have gone on overdrive since Poonam Pandey, a Mumbai based model, has announced that she will bare all if India wins the world cup. Adding fuel to fire is the fact that today indeed is April Fool's Day. She is one of the most searched people on the Internet and is trending on Twitter too. Here are some of the best messages about her:
1.daddy_san:
Poonam Pandey. Centuries ago a game was lost. A woman was asked to remove her clothes. It started a war. OK, you haven't read that book.
2. blinkandumissit:
What would really give today some meaning would be if Poonam Pandey gets up and yells "April Fool. I'm not goin to do it."
3. sramanaa:
Tomorrow Sachin Tendulkar will take the center stage as Dushasana. Poonam Pandey will be Droupadhi.
4. whatamenon:
Chulbul is called Robinhood Pandey. Poonam is called Dis-robin' Pandey.
5. rajeshsound:
It is time that Mumbai Finals of CWC2011 gets rated A or at least PG. CBFC, are you listening? #poonampandey
6. trishulmody:
If India wins the world cup, will #PoonamPandey shout 'APRIL FOOL'?
7. DementedShaun:
#Poonampandey plays the biggest #AprilFool prank on India instead of Miss #Pandey doing full monty it will Chunkey Pandey #Joke #Fun #fb
8. azhar_91:
Strip Girl #PoonamPandey Says : "Even my parents are proud of me because I am doing something for Team #India" #WTF!
9. siddev18:
I think Ashish Nehra will be a modern day Krishna , defender of Poonam Pandey's modesty .
10. MoviesDM:
Haha! Poonam Pandey on radio: "Mere strip karne se team ka man-o-bal badega"! RJ replies: "Bal to zarur badega"!
11. kumargunjan10:

i request to indian goverment as well as BCCI & ICC ..to dnt allow to POONAM PANDEY to do like that(nude) after the winning wc 2011.