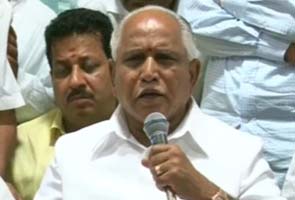 Bangalore:
BS Yeddyurappa has rejected the BJP's overtures and made it clear he will not stay on in the party unless his demands are fulfilled - one of them reportedly being Nitin Gadkari's removal as president.
Mr Yeddyurappa, the party's Karnataka strongman and former chief minister, was met by senior BJP leader Arun Jaitley at an undisclosed location in Bangalore today. Mr Jaitley tried to persuade him not to leave the party.
Mr Yeddyurappa reportedly threw in several demands. Apart from Mr Gadkari's removal, he wanted the party to appoint him the Karnataka unit's chief and project him as the next chief minister.
Mr Jaitley had met Mr Yeddyurappa as part of the RSS's attempts to broker peace.
Mr Yeddyurappa had to resign as Karnataka chief minister in July 2011 after being indicted by the state Lokayukta in a mining scam.