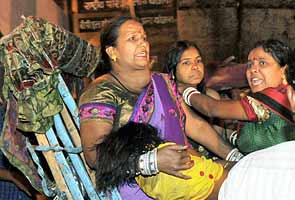 Patna:
18 people, 10 of them children, have died in a stampede in Patna in Bihar.
The tragedy occurred at around 7 pm on Monday during Chhath festival celebrations at the Adalatganj Ghat on the banks of the river Ganges in the city.
Chief Minister Nitish Kumar refuted reports that the deaths were caused by the collapse of a bamboo bridge collapse. "This incident took place not because of the collapse of a temporary bridge made of bamboo but due to stampede," Mr Kumar told reporters at a press conference at his official residence.
The Chief Minister said that he had asked Home Secretary Amir Subhani to inquire into the incident. "An inquiry would be conducted to identify the cause of stampede that resulted in the incident," he said.
He said that the government would take action against those found guilty.
The stampede broke out as the devotees, returning home after 'Arghya' - offering prayers around sunset - at the
ghat
, tried to rush out of a narrow makeshift bridge and approach a wider pontoon bridge by climbing steep stairs at the bank.
Mr Kumar also said that the incident should not be politicised. "There should be no politics when such incidents take place. It is a very sad incident. I will like to appeal to everyone that at this time we should all come together to resolve the crisis," he said.
His remarks came after angry relatives of the injured smashed glasses at the emergency ward of the Patna Medical College Hospital, protesting against inadequate treatment. This led the doctors to leave the hospital soon after.
The Chief Minister, however, said the doctors returned following the intervention of the Principal Secretary (Health) and the Director General of Police.
The government has announced a compensation of Rs.2 lakh to the next of kin of each of those killed, a district official said.
Over four lakh people from Patna and nearby areas gathered at different
ghats
for Chhath celebration, officials said.

(With inputs from Agencies)