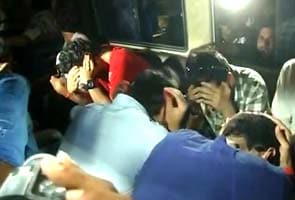 Mumbai:
Nearly 100 people have been detained this evening after the Mumbai police busted a rave party at a hotel in suburban Juhu.
According to the police, 58 men and 38 women have been detained; most of them are foreign nationals. Sources say the detainees include two players of the Indian Premier League (IPL), children of celebrities and people related to Bollywood.
The detainees are being subjected to medical tests at the Cooper Hospital and whoever will test positive, will be arrested.
The police have also seized 110 grams of cocaine and MDMA, popularly known as Ecstasy, from the famous Oak Woods Hotel, where the rave party was being held. The raid was conducted at around 9:30 pm and went on for nearly an hour.
"Approximately 110 grams of cocaine along with MDMA, Ecstasy and charas were seized," Additional Commissioner of Police Vishwas Nagre Patil said. "We will do a proper investigation into who organised the party and who were the drug peddlers," he added.
A case has been registered against the hotel under the Narcotic Drug and Psychotropic Substances act (NDPS).
(
With inputs from PTI
)