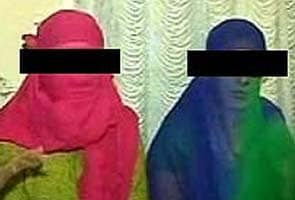 Mumbai:
Even as Maharashtra Police has indicted its own men for arresting two women - one for posting a comment on Facebook against the shutdown in Mumbai after Shiv Sena Chief Bal Thackeray's death and the other for liking it - a video accessed by NDTV shows how a senior police officer is trying to appease the Shiv Sena men and promising action even after the girls apologised.
"We are registering a case under section 295 A of the IPC and Section 66A of the IT Act. Their family members are here and they are ready to give a written apology. But that doesn't mean we will not register a case. I will also give you'll a copy of the apology in 15-20 min," Palghar Deputy Superintendent of Police Ramdas Shinde is seen in the video trying to appease the Sena men.
"Be rest assured that action will be taken. Please remain calm. An unfortunate incident has taken place. Please don't give in to incitement. I am with you in your sentiments. Please understand me," the video shows Mr Shinde as saying.
Meanwhile, the Maharashtra Police's inquiry has said that the two young women need not have been arrested.
The report by Inspector General Sukhwinder Singh, sources say, admits that there were omission and commission on the part of the local police officers and recommends departmental actions against errant cops.
According to sources, the report says that invoking Indian Penal Code's (IPC) Sections 295 (A) (deliberate and malicious acts, intended to outrage religious feelings or any class by insulting its religion or religious beliefs) and 505 (2) (making statements creating or promoting enmity, hatred or ill-will between classes) against the women wasn't justified.
The Inspector General, in his report, has recommended that the charges against the two girls be dropped at the earliest, say sources. The report has been sent to the Home Ministry for further actions.
The two girls were arrested on Monday after a Shiv Sena leader Bhushan Sankhe lodged a complaint in the Palghar police station in Thane district. They were released hours later after paying two bonds of Rs. 15,000 each.
The woman's Facebook status read: "Everyday 1000s of people die but still the world moves on. Just due to one political leaders death.. everyone just goes bonkers. They should know we are resilient by force, not by choice. Respect is earned, not given and definitely not forced. Today Mumbai shuts down due to fear and not due to respect."
A clinic owned by the uncle of one of the girls' was ransacked, allegedly by a group of 30 to 40 Shiv Sena workers. 10 people were arrested for the attack but were soon released on bail after Rs. 7,500 was paid by each as surety.
Following a furore over the girls' arrest, Maharashtra Chief Minister Prithviraj Chavan had promised "strict action" against police personnel, if they were found guilty in the probe.