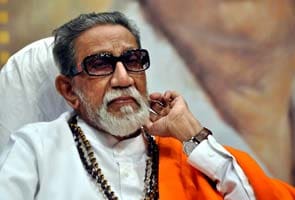 Mumbai:
Within days of Shiv Sena patriarch Bal Thackeray's death, cadres of political parties across the spectrum on Thursday raised the pitch for a memorial of the Shiv Sena founder and renaming of several places in the city after him.
Shiv Sena corporator Yashodhar Phanse demanded that the upcoming Mumbai-Goa coastal highway be named after Mr Thackeray, while another Sena corporator Ramesh Korgaonkar said the Churchgate railway station in south Mumbai be renamed after the late Sena leader.
Shiv Sena leader Manohar Joshi demanded a memorial be built at Dadar's Shivaji Park in central Mumbai from where Mr Thackeray had launched the party. Later, the Shiv Sena demanded that an international museum should be built at the memorial.
The party also wants that the Shiv Sena founder's idol be installed at the civic body's headquarters in south Mumbai.
However, renaming famous spots after Mr Thackeray were not their only demands.
Another Sena corporator Raju Pednekar said that Mr Thackeray should officially feature in school textbooks.
Several other parties too demanded that the late leader should be honoured suitably.
Mr Thackeray's nephew Raj-led Maharashtra Navnirman Sena corporator Chetan Kadam said that there should be elocution competition on Mr Thackery in civic schools.
Congress corporator Naina Sheth said the Dadar Railway Station, which connects south and central Mumbai, should be renamed after Mr Thackeray.
Sunil More, another Congress corporator, demanded that there should be a museum built after Mr Thackeray at the sprawling 12-acre campus of a mill.
Bharatiya Janata Party corporator Dilip Patel said that the proposed airport in Navi Mumbai should be named after Mr Thackeray.