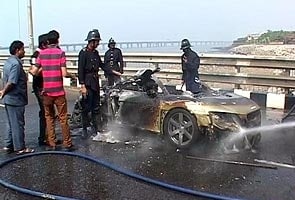 Mumbai:
Passengers of an Audi R8 supercar escaped with minor injuries after it caught fire on the Bandra-Worli Sea Link in Mumbai today. The incident occurred during the Parx Super Car Show, an annual luxury and vintage car rally in the city.
The R8, which costs around Rs 1.8 crore, was not a participant in the show, but was plying on the same route as the rally and caught fire around noon reportedly due to a technical failure. The driver and three passengers in the car were rescued by the organisers of the event.
Gautam Singhania, Chairman and Managing Director of Raymond Limited, who hosts the car show, said, "The car wasn't a participant nor was the driver associated with the Super Car Club. My team rescued the people inside the car."
Traffic on the sea link was affected for some time following the incident, but order was soon restored.