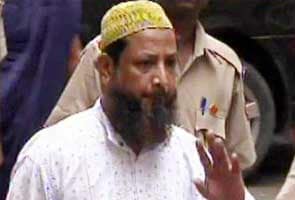 Mumbai:
The Bombay High Court has upheld the death sentence given to three people convicted in the 2003 Mumbai twin blast case that killed over 50 people.
46-year-old auto driver Haneed Sayyed, his wife Fahmeeda (43), and Ashrat Ansari (32) were awarded the death sentence by a special Prevention of Terrorism Act (POTA) court in August 2009. This is the first instance when a husband and wife have been found guilty of terror activities in the country. It is also one of the rare terror cases where the prosecution has been able to manage the maximum sentence - the death penalty for the accused.
The trio was convicted under sections of the Indian Penal Code (IPC) for conspiracy, murder and attempt to murder. They were also found guilty under sections of POTA, Explosives Act, Explosive Substances Act and Prevention of Damage to Public Property Act. This is the biggest blasts case after the 1993 serial blasts trial and took six years to complete.
The convicts were also involved in placing an unexploded bomb in a bus at suburban SEEPZ on December 2, 2002, and another explosive device in a bus at Ghatkopar on July 28, 2003 in which two persons were killed due to the explosion.
However, Pakistan-based terror outfit LeT, to which the three were linked, decided to conduct high intensity explosions, and hence powerful bombs were planted at two taxis in Zaveri Bazaar and Gateway of India on August 25, 2003.
52 people were killed and 184 others were injured in the twin blasts on August 25, 2003, at the Gateway of India and Zaveri Bazaar.