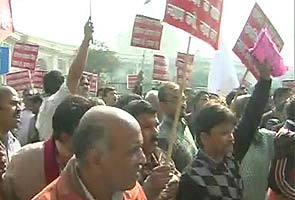 Lucknow:
The indefinite strike by 18 lakh government employees in Uttar Pradesh against the quota in promotions bill has shut down key departments and left people trying to get work done in uncertainty.
Gurbir Singh Gulati, a media professional who flew down from Mumbai to Lucknow to sell his property, has made two unsuccessful rounds of the registrar's office in Lucknow.
On Tuesday, the registrar's office had opened barely for five minutes. Unable to get his registry done, Mr Gulati returned on Wednesday, the fourth day of the agitation, but found the office shut again.
"We are facing such inconvenience. We have had to cancel many appointments to get the registration done. There is no system. No notice has been given to the people; everybody is troubled," said Mr Gulati.
Om Pratap Singh, an assistant clerk at the registrar's office, is one of the employees who will be affected by the quota bill and its controversial clause of promoting junior Dalit employees over those from the general category.
He said the strike will continue until the bill is withdrawn and the people should cooperate. "Their children will face the same problem that we are facing because of the quota bill. They should cooperate with us. We apologise for the inconvenience," he said.
The bill, which is being opposed by the Samajwadi Party in and outside Parliament, has passed the test in Rajya Sabha and awaits clearance from the Lok Sabha.
While essential services like hospitals, transport and power in Uttar Pradesh have not been affected by the strike, many are wondering how long the Akhilesh Yadav government can allow the agitation to continue.