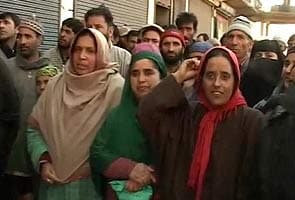 Srinagar:
Women panchayat members in Kashmir today protested against Chief Minister Omar Abdullah's remark that the opposition People's Democratic Party (PDP) was bribing them with make-up kits ahead of the legislative council elections.
Elections will be held on December 3 for four seats of the legislative council from the panchayat quota. Around 35,000 panchayat members are eligible to vote.
Mr Abdullah made the remarks yesterday while campaigning in his home constituency of Ganderbal.
"It is you (PDP) who are serving Wazwan dishes everywhere, handing out money in envelopes and distributing bags to women panchayat members. These bags contain scissors, nail-cutters and other make-up accessories. On one hand you are observing purdah and on the other giving our women make-up sets to beautify themselves. If you want to give them anything, give pen and paper. Do you think panchayat members are so mean to sell their conscience for a petty thing like make-up kit," Mr Abdullah had said.
Today, women panchayat members backed by the PDP took to the streets in Ganderbal to protest. Some said they were ready to resign if Mr Abdullah could prove his allegations.
The PDP has offered to withdraw its candidates from the elections if the allegations are proved.
"Its a huge insult to those girls and women who have fought social barriers that exist in our society and joined this electoral process. I challenge him (Omar Abdullah) - if he proves (his allegations), we will withdraw our candidates from the contest. But if he doesn't, which I'm sure he can't, he should resign," PDP spokesperson Naeem Akhtar told NDTV.