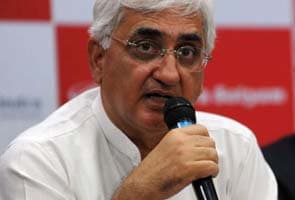 New Delhi/London:
Law Minister Salman Khurshid has stridently rejected allegations that an NGO headed by him and run by his wife siphoned off lakhs of money meant for physically challenged people in his home state of Uttar Pradesh. The minister said he plans to take Hindi TV channel Aaj Tak to court for making those accusations. About former activist Arvind Kejriwal, who cited the TV channel's sting to demand the minister's resignation, he said, "I don't think that Mr. Kejriwal deserves a reply from anybody but we will take care of Kejriwal in due course of time." (
Read the full transcript here
)
An undeterred Mr Kejriwal did not miss a beat as he hit back saying, "This matter is such that it does not need an inquiry, Salman Khurshid should be dismissed." Mr Kejriwal said he had not seen "a side of corruption so heinous." The activist-turned-politician, who launched a new anti-graft political party last week, cited the Aaj Tak sting yesterday to demand that Mr Khurshid should resign and that his wife be arrested. To push for action against the minister, he also plans to lead a group of demonstrators to "gherao" or march to the Prime Minister's house tomorrow.
Aaj Tak had aired the expose that alleged that Mr Khurshid's NGO embezzled money meant for physically challenged people in his home state of Uttar Pradesh on Tuesday night. NDTV cannot independently verify the authenticity of the sting.
Mr Khurshid told NDTV in London, "Do you really think I am mad? That I would siphon off money? Where we've been working for 15 years...giving people tricycles, giving people different implements. This is my constituency. You don't cheat on the people of your constituency," the minister told NDTV in London.
He added, "Mr Kejriwal should first explain what he has been doing all his life. He should first explain where he gets his money from. How he lives, he should tell us how he travels. He should tell us what he's done with the funds that come," the minister said, "but we'll take care of Mr Kejriwal in due course, don't worry."
Mr Kejriwal's focus on the Law Minister comes as he is starring in another political controversy - he has accused Robert Vadra, Congress president Sonia Gandhi's son-in-law, of corruption and an illicit business relationship with realty giant DLF. The former activist says that in exchange for discounted apartments and interest-free loans from DLF, the Congress government went out of its way to promote DLF's business interests in Haryana. Mr Kejriwal says that as an example, 30 acres of land booked for a hospital was sold to DLF for a Special Economic Zone (SEZ). The Haryana government, Mr Vadra, and DLF have all emphatically denounced Mr Kejriwal's charges.