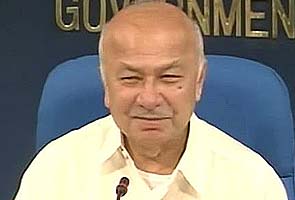 New Delhi:
After years of negotiation, India may finally get voice recordings from Pakistan that could help establish the identity of the men who were on the phone to the terrorists who attacked Mumbai for 72 hours straight in 2008.
Home Minister Sushil Kumar Shinde said today that India has reason to believe that it will access voice samples of Hafiz Saeed, the man who India has declared the architect for its worst-ever terror attack.
For the last four years, Pakistan has refused to provide the voice samples of Saeed, or Zaki-ur-Rehman Lakhvi, the chief of banned terror group Lashkar-e-Toiba.
Islamabad has so far maintained that its laws do not allow voice-sampling.
While Mr Shinde refused to elaborate, sources told NDTV that India has suggested to Pakistan that it could collect publicly-available voice samples of suspects like Saeed, who frequently addresses large rallies, and other Lashkar members which could then be authenticated by the Pakistan Federal Investigative Agency.
"I am hopeful that Pakistan will accept this way-out we have suggested," a top Home Ministry official told NDTV.
While Indian investigations have revealed that Saeed played a key role in the planning of the 26/11 attacks in which over 160 people were killed, it hasn't been able to procure clinching evidence.
Saeed's lead role in the planning and organisation of the attack has been described to investigators in the US by David Coleman Headley, the Lashkar terrorist who was arrested in Chicago in 2009.
Headley has confessed to surveying and filming the Mumbai landmarks that would be struck with savage force by the 10 young Pakistani men who sailed into the city from Karachi.
Zabiuddin Ansari, deported to India from Saudi Arabia earlier this year, has acknowledged both his own role as a handler who guided the terrorist on the phone as they fanned out across Mumbai, as well as that of Saeed.
Ansari has told Indian investigators that Saeed was present in a "control room" in Karachi from where handlers like him worked the phone during 26/11.
Corroborating testimony against Saeed has also been added by Ajmal Kasab, the only Pakistan terrorist who was caught alive in Mumbai.
India has provided over a dozen dossiers to Pakistan with this information but has been told this is not sufficient evidence to merit the prosecution of Saeed in a Pakistani court.
By collecting his voice sample and matching it with the phone conversations intercepted by Indian intelligence officials during 26/11 with the help of the FBI, India hopes to establish Saeed as the lead player in the attack.
Pakistan's Interior Minister Rehman Malik is likely to visit India soon - a proposal which has been discussed before but is being taken more seriously with both countries focusing on better bilateral dialogue and relations. Sources say India will lobby its case for the 26/11 voice samples during this meeting.
"Mr Malik wanted to visit India to operationalise the new visa regime and also come for bilateral talks on November 11 or November 22. While we have both extended an invitation to each other for a visit, the dates will have to firmed up," Mr Shinde told reporters today.