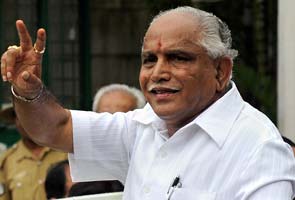 Bangalore:
A staunch Rashtriya Swayamsevak Sangh (RSS) man, BS Yeddyurappa, who on Friday quit the Bharatiya Janata Party (BJP) and the Karnataka assembly, rose from being a clerk in a rice mill to the party's first chief minister in south India - and eventually its albatros.
He ended his 40-year association with RSS and the Jan Sangh, which later became the BJP, on a bitter note and is out to damage its prospects of retaining power in the assembly elections due next May.
Born on February 27, 1943 to Siddalingappa and Puttathayamma in Bookanakere in Mandya, about 80 kilometres from Bangalore, Mr Yeddyurappa saw no future for him in the BJP in 2004 and thought of quitting it to join the Janata Dal-Secular (JD-S), headed by former prime minister HD Deve Gowda.
Ironically, it was the failure of Mr Gowda's son HD Kumaraswamy to honour his word of making way for Mr Yeddyurappa to become chief minister of a JD-S-BJP coalition in 2007 that catapulted him to become BJP's first chief minister in the state in May 2008.
In the 2004 assembly polls, when the BJP bagged 79 seats in the 225-strong house, Mr Yeddyurappa thought the BJP had peaked in Karnataka and would not win that many seats in the state ever again.
He turned Mr Kumaraswamy's "betrayal" as backstabbing of the Lingayat community, a politically powerful caste group to which Yeddyurappa belongs. Mr Kumaraswamy is from the Vokkaliga caste, another politically influential community.
Lingayats and Vokkaligas, constituting about 17 per cent and 15 per cent of the state's 65 million population respectively, have dominated Karnataka politics for decades.
Riding on the "betrayal" platform Mr Yeddyurappa led the BJP to win 110 seats in the May 2008 assembly polls and formed the first BJP government in the state with the help of six Independents.
However, his tenure was marked by many other firsts - all the wrong ones - and he was forced to quit as chief minister in July last year after the Lokayuta (ombudsman) N Santosh Hegde - indicted him for bribery in a massive illegal iron ore mining scam.
Thus began his downfall - from being the tallest BJP leader in Karnataka he now lives with the dubious distinction of becoming the first former chief minister of the state to be jailed for corruption.
He spent over 20 days in Bangalore's central prison in October-November last year in connection with corruption in an alleged illegal land deal, in which his two sons, BY Raghavendra, a BJP Lok Sabha member from Shimoga, and BY Vijayendra and son-in-law RN Sohan Kumar are also accused.
Though born in Mandya district, Mr Yeddyurappa made Shimoga district, about 280 kilometres from Bangalore, his political base and entered the assembly for the first time from Shikaripura in that district in 1983. He has been representing the constituency since then, losing only once in 1999.
From the beginning, Mr Yeddyurappa's tenure as chief minister was not a smooth affair.
There were three rebellions and various scandals including one minister, Haratalu Halappa, resigning after he was charged with raping his friend's wife in Shimoga.
The mining scam involving the Reddy brothers - G Janardhana, G Karunakara and their associate B Sriramulu, who were ministers in the Yeddyurappa cabinet - followed.
In January last year Governor HR Bhardwaj shook the BJP and Yeddyurappa by granting permission to two Bangalore advocates to launch criminal proceedings against him for illegally denotifying (freeing government land) in and around Bangalore for monetary gains.
The two advocates, Sirajin Basha and NK Balaraj have filed five cases, in two of which Mr Yeddyurappa was sent to jail by Lokayukta special court judge NK Sudhindra Rao.
The former chief minister begins a new political journey even as he battles these cases in the courts. He has been asserting that he is innocent and will prove in the courts.
Mr Yeddyurappa has three daughters, Arunadevi, Padmavati and Umadevi.
His wife Mytradevi died under mysterious circumstances in 2004. Her body was found in a well near their house in Shimoga.