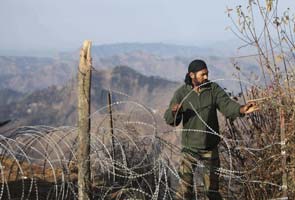 Srinagar:
Brigade commanders from the Indian and Pakistani armies will hold a flag meeting at 1 pm in Chakan da Bagh in Poonch along the Line of Control in Kashmir today. India will strongly protest against the killing of two soldiers last week by Pakistani troops and will warn that it must not happen again.
Ahead of the flag meeting, Chief Of Army Staff, General Bikram Singh, said at a press conference today, "It was a gruesome and unpardonable act. This act defied all logic. This is against the rules of soldiering. We have launched a protest through the Director General of Military Operations. We are holding a commanders flag meeting today and this will be conveyed again."
Pakistan has agreed to India's request for such a meeting, a confidence-building measure, after four days of no on-ground contact between the two armies. But even after the flag meeting was agreed upon yesterday, the Indian Army reported fresh firing by Pakistan troops on Indian posts in the Nangitikri forward area in Poonch district. The Indian Army fired back.
"We will retaliate if provoked and fired upon, and let me tell you we have fired back," General Singh said today.
At today's meeting, India will bring up the issue of ceasefire violation by Pakistani troops every day in the last week; there is apprehension that the firing is being used as a cover for infiltration of militants into India. The police in Jammu and Kashmir are on high alert to block any cross-border attempt to escalate militancy.
India will strongly protest against the killing of two soldiers last week by Pakistani troops and will warn against repetition of such an incident. The Indian Army is also expected to ask Pakistan to return the severed head of one of the two jawans killed on January 8, which it believes was taken away by the Pakistani troops.
Lance Naik Hemraj Singh's wife and mother are on an indefinite fast in their Uttar Pradesh village, demanding the return of his head.
India has said Pakistani troops violated the Line of Control and entered Indian territory to ambush its jawans. Pakistan has denied this and has accused India of targeting its troops.
Islamabad has also denied the mutilation of the bodies of the Indian soldiers and offered a United Nations inquiry, which India flatly refused.
Over the weekend India's Air Chief Marshal NAK Browne said the LoC was sacrosanct and that "while Pakistan's repeated violations of the 2003 ceasefire agreement are unacceptable, India will explore all options available."
The almost week-long tension at the border has caused cross-border trade and a bus service to be stopped in the Poonch sector.
The tension began last Sunday when the Pakistani army accused India of killing one of its soldiers and wounding another in a cross-border attack. India said its troops had opened fire following a Pakistani mortar attack, but denied they crossed the border. General Bikram Singh also denied that the Indian Army was involved in any operation last Sunday. Four soldiers have been killed in the last five days. This week marks a peak in hostility since 2003, when the ceasefire was agreed upon.