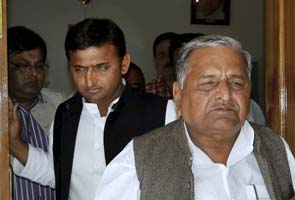 New Delhi:
Politician Mulayam Singh Yadav and his sons Akhilesh and Prateek will be investigated by the CBI for alleged corruption, the Supreme Court said today.
Mr Yadav said he welcomes the decision.
It will force a recalibration of the huge power Mr Yadav wields in Delhi. His party does not participate in the Union government, but provides crucial external support to the fragile coalition headed by Dr Manmohan Singh. Congress general secretary and Sonia Gandhi's political advisor Ahmed Patel, however, said the Supreme Court order will not change the government-Samajwadi Party relations.
Last week, he played a lead role in enabling the government to win a parliamentary vote on its decision to allow foreign super-markets like Wal-Mart into the country.
Today's verdict will shift the balance of power significantly in favour of the government at a time when Mr Yadav has suggested that he is ready for early elections, implying that Dr Singh's government will not last its full term till 2014.
While Mr Yadav heads the Samajwadi Party, his older son 39-year-old Akhilesh is the chief minister of the state. Prateek, a bodybuilder, is prepping for his political debut.
The Supreme Court said today that Akhilesh's wife, Dimple, will not be included in the investigation because she was not a public official when the family allegedly collected assets that are disproportionate to its income.
Dimple is now a Lok Sabha MP.
On March 1, 2007, the Supreme Court had ordered a CBI inquiry against Mulayam, sons Akhilesh and Prateek, and daughter-in-law Dimple Yadav based on a public interest litigation filed against the family in 2005.
The Yadavs challenged the probe and alleged that the PIL was politically motivated. They said the court's order to start an inquiry would "set a dangerous precedent" of allowing political opponents to file "false and frivolous" petitions against their rivals.