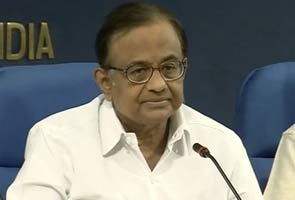 New Delhi:
A day after the meeting of chief ministers on internal security, where several of them strongly opposed the Centre's proposal to set up the National Counter Terrorism Centre (NCTC), Home Minister P Chidambaram today lamented the "mistrust" harboured by some states. "There is trust deficit among states... Some states harbor mistrust towards the Central Government and it is regrettable," Mr Chidambaram said.
The Home Minister also went to the extent of saying that the Centre is willing to step back for every step taken by the state governments in fighting terror, Maoists and accept responsibility for border management.
"There were many chief ministers who emphasised on the need for Centre and states to cooperate on fighting terrorism. We had already circulated the agenda and I have already offered that the draft will be circulated before the next meeting. I'm confident that the next meeting (on May 5) will resolve issues between the states and Centre," he said while addressing mediapersons in New Delhi today.
The key agenda of the chief ministers' meeting convened by Mr Chidambaram was the strengthening of anti-terror capabilities and intelligence, Maoist violence, police reforms and capacity building. The NCTC was also discussed, but a separate meeting of chief ministers on that controversial issue has also been called on May 5, at the instance of CMs like Tamil Nadu's J Jayalalithaa and Mamata Banerjee, who will attend that meeting.
Ms Banerjee did not attend yesterday's meeting, but other non-Congress chief ministers who have been vocal about their opposition to the Centre's proposal to set up the NCTC circulated copies of their strong speeches over the issue.
Each of these chief ministers have written to the Prime Minister, some repeatedly, against the proposed anti-terror body NCTC, saying it steps on the toes of states and as such violates the federal structure that the Indian Constitution provides for. Mamata Banerjee has spearheaded that protest, even arm-twisting the government she partners to promise in Parliament that no further steps will be taken on the NCTC without a thorough discussion with chief ministers. Her absence from the internal security meeting thus has caused some embarrassment for the Centre.
The NCTC is a pet project of Mr Chidambaram, who has passionately advocated the need for the anti-terror organisation and has sought to allay the fears of 10 Chief Ministers who have been vocal in their opposition by assuring them that the government intends to work with states on battling terrorism.