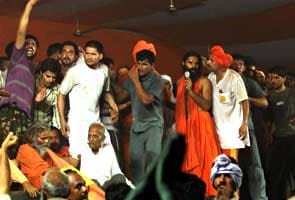 New Delhi:
Yoga guru Baba Ramdev has been once again told by the Supreme Court that he has to take responsibility along with the government for the chaos that erupted at his camp in Delhi in June last year.
Nearly 30,000 people were gathered at Delhi's Ramlilla Maidan, where Baba Ramdev was using a yoga camp to campaign for the need to recover undeclared or black money deposited by Indians in foreign bank accounts. The police descended on the camp late at night and tried to arrest him; Baba Ramdev leaped off his stage and disappeared into the crowd. The police used lathi-charge to disband the camp. Baba Ramdev was found hours later near the railway station, dressed as a woman.
In February, the Supreme Court had ruled that the yoga teacher and the government were both responsible for the police's action and the injuries caused to many people at the camp. One woman, Rajbala, died after being hospitalised. The Supreme Court had said that her family should be compensated with five lakh rupees. It had also said that Rs 50, 000 should be paid to those seriously injured and Rs 25,000 to those with minor injuries. The court had directed Baba Ramdev's trust to pay 25 percent of the due compensation.