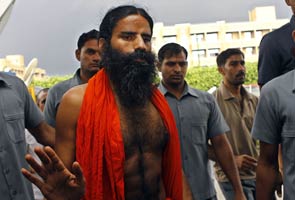 Durg:
A privilege motion has been moved by a Samajwadi Party MP against Baba Ramdev for remarks by the yoga icon against politicians.
At a public function in Durg in Chhattisgarh yesterday, Baba Ramdev said that though there are some good members of Parliament, others are "murderers and robbers." Lalu Prasad Yadav of the Rashtriya Janta Dal or RJD responded by calling the yoga guru "a mental patient."
The motion moved by Shailendra Kumar, a Samajwadi Party MP from Chail constituency in Uttar Pradesh, seeks punishment for Baba Ramdev for violating the rights and immunities enjoyed by members of Parliament and for violating the dignity of the House.
In June, Baba Ramdev is holding a rally to bring back focus on the Jan Lokpal and the issue of black money and anti-corruption activist Anna Hazare has agreed to share the stage with him.
In February, Baba Ramdev had agreed with Anna's close aide Arvind Kejriwal who had said that members of Parliament include murderers and dacoits. Sushma Swaraj led a debate in Parliament that saw MPs registering their strong protest against the language used by Mr Kejriwal and another Anna aide, activist Kiran Bedi.
"There can be objection on the language or words used by Kejriwal but his contention is absolutely right," Baba Ramdev had said.