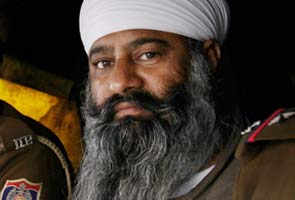 Amritsar:
There is more trouble for Sukhdev Singh Namdhari, the key accused in the murder case of liquor baron Ponty Chadha and his brother Hardeep, as the Punjab government has recommended its police department to file a First Information Report (FIR) against him for illegally obtaining arms licenses in the state.
The state home department has already submitted a report which says that Mr Namdhari, the former chairman of the Uttarakhand Minorities Commission, obtained arms licenses through documents which had fake addresses.
Mr Namdhari has been in police custody since November 23. The police have accused him of opening fire at Hardeep Chadha and killing him in the November 17 shootout at a Chattarpur farmhouse on the basis of a statement of co-accused Bhupinder Bisht, who used to be Ponty Chadha's body guard. But Mr Namdhari has denied the charge so far. On November 29, the Delhi Police had added the murder charge against him.
According to the report a total of five arms licenses were issued to Mr Namdhari. It says that he had applied for one of the arms licenses on September 20, 1994 to the Deputy Commissioner of Ropar which was forwarded to the Senior Superintendent of Police who marked it to the concerned Station House Officer on the same day. The report finds this unusual as this process takes at least a month or two in normal cases.
Mr Namdhari got a duplicate license issued from Amritsar as well on a fake address, without surrendering his original one.
The report also found that in 2005, the District Magistrate of Udham Singh Nagar in Uttarakhand had ordered cancellation of Mr Namdhari's fake arms license for misuse which was issued from Patiala.
A gun that was allegedly used by him in the Chhatarpur shootout was recovered from Mr Namdhari and police claim that his son had tampered with it to cover his involvement. Police has used this in court as well to nail their claim of his being the prime suspect.