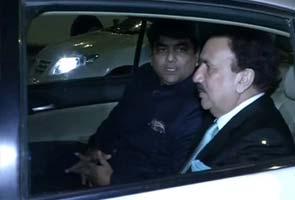 New Delhi:
Rehman Malik, Pakistan's Interior Minister, arrived in Delhi nearly four hours behind schedule because there was complete confusion over where his plane should land.
Mr Malik's office was reportedly told by Indian officials in Islamabad that he could land at the Delhi's Palam Technical Airport, often used by VIPs.
However, the Indian Air Force, which controls the airport, did not clear the plane's arrival. While some sources said the Air Force had not been informed of Mr Rehman's arrival, others said that permission to land at Palam was denied because the handling and clearing agent assigned to deal with the Pakistani delegation was not cleared for the high-security area.
The minister's plane was then asked to land at Delhi's T-3 international airport.
Mr Malik is scheduled to meet with Home Minister Sushil Kumar Shinde. He will return to Pakistan on Sunday.