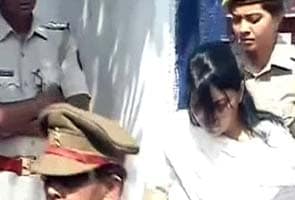 New Delhi:
Nupur Talwar, accused with her husband of the murders of their daughter and domestic help in a Delhi suburb, will spend the weekend at a jail near Delhi, where she was imprisoned on Monday.
Mrs Talwar had asked the Supreme Court to consider granting her bail today. She has already been refused bail by two courts in Ghaziabad this week. The Supreme Court has said it will hear her petition on Wednesday, Thursday and Friday. It has clubbed her request for bail with another application that asks for the trial of the Talwars to be cancelled.
That trial for murder, destruction of evidence and criminal conspiracy was ordered last year by Judge Preeti Singh who heads a special CBI court in Ghaziabad. The trial has yet to begin - the next hearing in Judge Singh's court is scheduled for May 9 and she may initiate the process of transferring the case to a sessions court for trial.
Mrs Talwar and Rajesh were at home in May 2008 when their 13-year-old daughter Aarushi was killed. After discovering her body in her bedroom, they reported the case to the police. The initial suspect was the Talwars' missing domestic help, Hemraj, who was from Nepal. But a few hours later, his body was discovered on the Talwars' terrace.
Since then, despite any hard evidence, the Noida Police and later the Central Bureau of Investigation (CBI) have said they believe that Rajesh Talwar is behind both murders. In December 2010, the CBI asked Judge Singh for permission to wrap up its investigation. It said it did not have proof against Mr Talwar but listed him as its main suspect. Judge Singh then said that both Rajesh and Nupur would be tried for murder.
On Monday, the Allahabad High Court is scheduled to hear the CBI's request to cancel the bail granted to Rajesh Talwar in 2008.