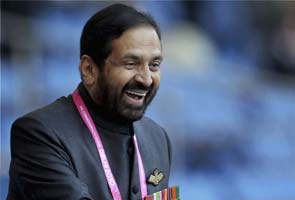 New Delhi:
In what is being seeing as another snub for the Commonwealth Games Organising Committee Chairman, Suresh Kalmadi, Cabinet Secretary KM Chandrashekhar hosted a 'thanks giving' dinner on Friday where most CWG officials were invited, except Kalmadi.
The dinner was attended by the Delhi Chief Minister Sheila Dikshit, Lt Governor Tejender Khanna and the Sports Minister MS Gill.
This comes just days after both Prime Minister and Sonia Gandhi did not invite Suresh Kalmadi to the functions they hosted to felicitate Indian medal winning athletes.
Earlier, Kalmadi had claimed that contrary to reports, he was invited by Prime Minister Manmohan Singh to the felicitation function for CWG medal winners but could not go due to his "busy" schedule.
Perhaps the government is giving a signal that it is trying to keep a distance from Kalmadi as more and more charges are coming up every day against the CWG Organising Committee.