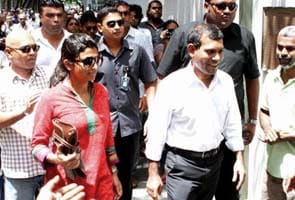 New Delhi:
India on Friday rejected Maldivian charge that it was undermining its democratic institutions, saying it has no intention to interfere in its internal matters even as former President Mohamed Nasheed remained holed up in Indian mission in Male for the third day in a row amidst efforts to resolve the situation.
A day after Maldives accused India of undermining its democratic institutions and said it was "unfortunate" that New Delhi decided to publicly comment on Mr Nasheed's arrest warrant rather than opting for bilateral discussions, India clarified that it has no intention to interfere.
Explaining the turn of events after Mr Nasheed "marched in" the Indian High Commission in Male on Wednesday, sources said New Delhi has been "drawn" into the current situation.
India also clarified to Maldives that its statement stressing on the importance of Presidential nominees of recognised political parties being free to participate in the polls was "simply a political statement" and was not made to undermine Maldivian Election Commission or the judiciary.
"We had no intention of being drawn into it. He just walked in," government sources said speaking about the political situation in Maldives.
45-year-old Mohamed Nasheed has taken refuge in the Indian mission since Wednesday to evade arrest warrant issued by a local court in a case concerning the detention of Chief Judge of the Criminal Court during his Presidency in January last year, prompting India to issue a statement stressing importance of Presidential nominees to be free to participate.
Giving the sequences of events, the sources said that when Mr Nasheed walked into the Indian Mission, High Commissioner DM Mulay was not even present on the premises.
Told by a young officer that Mr Mulay was not there, Mr Nasheed said he will wait. "He (young officer) was forced into an awkward situation," they said, adding in absence of Mr Mulay in the High Commission, the officials could not clarify which led Maldives to believe that "something was going on".
While India was informed that the arrest warrant against Mr Nasheed had expired, an Advisor to Maldivian President was "suddenly" heard on TV saying that "police was waiting and the moment he comes out, we will nab him", sources said, hinting the statement changed the situation.
The sources also said India was in talks with Maldivian authorities to resolve the situation and that New Delhi was walking on a fine line.
Maintaining that Maldives society was "extremely polarised", the sources said to maintain Indian interests, New Delhi should not been seen as interfering in internal affairs.
Asked what happens if Mr Nasheed refuses to leave the Mission, a source said, "we will cross the bridge when it comes to it".
Meanwhile, in an official statement, a spokesperson in the Ministry of External Affairs stressed on a free, fair, credible and inclusive elections in that country.
Referring to the telephonic conversation External Affairs Minister Salman Khurshid had with his Maldivian counterpart on Wednesday, he said India has been working with the Maldives government and other relevant authorities there to strengthen the democratic framework in that country.
"As part of its commitment to multi-party democracy, India has broad-based contacts with all political parties and democratic institutions in Maldives without interfering in the internal affairs of that country," he said.
"India would be happy to work with the government and all political parties in the facilitation of this objective." He said that the Maldives Foreign Minister assured Khurshid that his government would "do its utmost to prevent any precipitate act that adversely affects the atmosphere for a free and fair democratic process and rule of law".