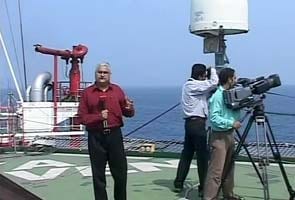 Bay of Bengal:
The NDTV team of cameraperson Alphonse Raj and Science Editor Pallava Bagla witnessed the unveiling of one of India's best-kept defence secrets on Sunday. The team was witness to the launch of BO5, a submarine-based ballistic missile from the Bay of Bengal.
To take a look at the launch NDTV had boarded a very unique ship which was the master control facility for the launch. This ship can be propelled or stopped at one place if required, and even has the facility for helicopters to land on it.
Numerous cameras and radars were deployed to track the missile when it was launched. And after the successful launch, NDTV witnessed some of the most joyous scenes of celebrations of Indian scientists, some of which was recorded from the helipad of the ship.
Pallava Bagla says, "in my 20 years of reporting I have never witnessed such an amazing sight of fire and water mixing together and performing to the exact engineering requirements as expected in a submarine-based missile launch, incredible India at its best."