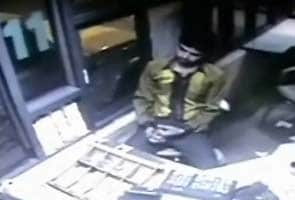 Gurgaon:
A day after the horrific murder of Umesh Kumar Pandey, a toll booth attendant at the toll plaza in Kheri Daula in Gurgaon, was caught on camera, the police have launched a massive manhunt to track down the killers.
22-year-old Umesh was killed, because a man, driving a Bolero, did not want to pay the Rs 27 toll tax. When Umesh refused to let the car pass, he got shot. The shocking murder was captured by the CCTV camera which showed Umesh grabbing his neck and then collapsing to the ground.
So far, the police seem to have run into some major hurdles - the CCTV footage has been of no help so far because the cameras pointing outwards did not record any footage, leaving the police without a clear description of the driver. In fact, the police are now even considering taking action against the company in charge of the toll booth.
"The footage is suppose to show pictures of the car and details of the Registration Certificate, which were not there," said SS Dehswal, Police Commissioner, Gurgaon.
As the National Capital Region still comes to terms with this shocking episode, toll collectors say that threats over non-payment of toll tax are not new, especially from locals from the surrounding villages.
Police say that nearly 20 villages in the area are exempted from paying toll tax. According to the system evolved, all the drivers need to show is their ID card to establish that they live nearby and they are allowed to pass through without any charge.
The locals have been asking for this toll plaza to be shifted back by six kilometres towards Manesar as more high rises have come up after toll. The local MP has taken this up with National Highways Authority of India.
The police believe that Mr Pandey never collected the toll amount from the attacker in the car - in this case, a Bolero.
"In the video footage, we have noticed that the travellers in the car did show their card, driving licence. Umesh Kumar, the attendant, closed the toll window, asking them to leave but they refused. To check again, he opened the window and then only he was shot at", Maheshwar Dayal, DCP, East and South Gurgaon said.
Umesh for the last four years was working in Delhi, and got married just four months ago. He is survived by two elder brothers - Rishi, who is mentally challenged and Ganesh, who is physically challenged. Umesh's father is a small time farmer.