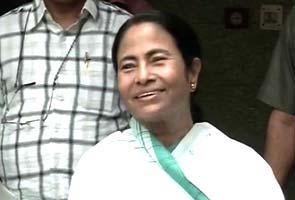 New Delhi:
Mamata Banerjee says she met with Sonia Gandhi in Delhi this evening to inquire after the latter's health and described the visit as "a courtesy call." Within Mrs Gandhi's party, however, there are two important issues to resolve with Ms Banerjee, an important ally, during this trip to the capital.
The first seems to have been accomplished. Ms Banerjee, who is the Chief Minister of Bengal, has reportedly agreed to support whoever is selected by the ruling coalition, the UPA, as its candidate for President of India. To reporters, Ms Banerjee joked, "I am the candidate." But there is a serious challenge for the Congress on another front - Ms Banerjee said today that she remains deeply opposed to the new National Counter Terrorism Centre (NCTC), an agency whose proposed powers have upset several Chief Ministers led by Ms Banerjee.
For its candidate for President, the Congress has shortlisted its choices to Finance Minister Pranab Mukherjee and Vice-President Hamid Ansari. The election is scheduled for June; Pratibha Patil's five-year term ends in July.
Sources say that Ms Banerjee met senior Congress leader Kamal Nath this morning and indicated she has no preference for the coalition's choice for President. On record, Ms Banerjee said that the matter has not been discussed and that she believes it's important to select a candidate who evokes consensus. Asked about her thoughts on Mr Mukherjee as president, she said it would be upto the Congress to decide but added, "He belongs to Kolkata first...we have a very good relationship with him." Indicating that she is unlikely to fight the Congress on who it selects, she said, "I know my limitations...I don't cross my border." Ms Banerjee has, sources say, clarified to the Congress that she will not support APJ Abdul Kalam, who has served as president earlier, and whose candidature has been discussed among some parties.
Ms Banerjee will meet the Prime Minister tomorrow. Her stand on the presidential elections could be affected by how the government reacts to her demand for a moratorium or abeyance of the interest her state owes for loans that run into thousands of crores.
This afternoon, Congress spokesperson Renuka Chowdhury told reporters that "it will never be easy to leave Pranab da. He is such a valuable person for us in the party...He is too involved and knows politics so well."
In the last few days, the Congress, which leads the UPA, has been carefully consulting its different allies to ensure they will back its Presidential candidate. Sharad Pawar, who heads the NCP, and M Karunanidhi of the DMK have both reportedly said that they will not object to either Mr Ansari or Mr Mukherjee as the government's presidential candidate. A bonus for the Congress is that the Left has also said that both options seem acceptable. "As far as Pranab Mukherjee is concerned, last time too, his name was doing the rounds and the Left had said that they have no objection...the point is not where do you stand or who do you stand with. Point is on whom can the consensus be built," Sitaram Yechury, CPI(M) Politburo Member said.
That makes life very tough for the BJP, which wanted to gather support among non-UPA parties for another presidential candidate. The election for President is a significant battle ahead of the general elections in 2014, and offers the BJP a chance to take on the Congress. But even its key ally, Bihar Chief Minister Nitish Kumar, has indicated that his party would be in favour of supporting a candidate who is accepted by most parties.
While Ms Banerjee may not give the Congress cause for concern over the Presidential election, she is reportedly still furious with the proposed NCTC. The anti-terror agency has upset the Chief Ministers of nearly a dozen states with non-Congress governments.
Ms Banerjee has been one of its most vocal critics. The NCTC, she and others like Naveen Patnaik and Jayalalithaa argue, violates the principles of federalism because it gives the agency sweeping powers to search and arrest suspects without consulting the police or anti-terror squads of states.
With unyielding opposition on the matter, the government has toned down those powers for the NCTC to ensure that state officials are kept in the loop. A formal meeting on the NCTC will take place on Saturday - Home Minister P Chidambaram will meet all chief ministers to discuss their concerns and to share the new blueprint for the agency.