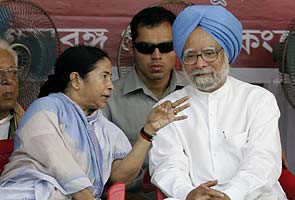 Kolkata/New Delhi:
Hinting at early Lok Sabha elections, Trinamool Congress (TMC) chief and West Bengal Chief Minister Mamata Banerjee told her partymen on Friday that she has information that a political party in Delhi had held a meeting to advance the polls to 2013. A day later, Congress dismissed the reports; party spokesperson Rashid Alvi told NDTV that the United Progressive Alliance (UPA) 2 will complete its full term and the elections will be held in 2014 as scheduled.
"I have not gone through the statement by Ms Banerjee but one thing is clear....The Manmohan Singh-led government will complete its full term. I can specifically say the (next Lok Sabha) elections will be held as per schedule," Mr Alvi said.
"If any political group talks to its workers about mid-term (election), it is their internal matter," he added.
Ms Banerjee in the meeting yesterday had told the party workers to be ready for the early elections.
"Any day, we can face election. We have to remain ready," Ms Banerjee had said yesterday, adding, "One party has held a meeting to hold the election in advance, though my information may not be correct."
"I have got the information. I am not going into details as to who were at the meeting. They deliberated on advancing the Lok Sabha election to 2013," she said.
After Ms Banerjee's statement, the Bharatiya Janata Party (BJP) also went into action mode, saying the current UPA government has become a burden for the nation, and the general elections may happen as early as 2012.
BJP spokesperson Shahnawaz Hussain said, "It is natural that the Manmohan Singh government has become a burden for the nation today. It will be good if Mamata Banerjee relieves the nation from this government. According to her, it is likely to happen in 2013, but I hope that it happens in 2012 itself, because if this government lasts for another minute, it wouldn't be right for this nation."