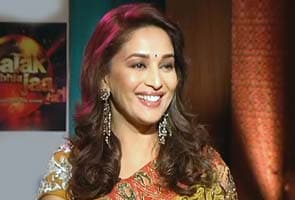 Mumbai:
Mumbai is the city where Madhuri Dixit tasted success and achieved stardom. But now, the same city is giving her a taste of bitter politics. She is facing heat from the Congress-NCP government over not attending an awards function.
The Maharashtra government is upset that the Bollywood heartthrob didn't attend the Raj Kapoor Awards function constituted by the state where she was to be honoured for her special contribution.
And the government argues that Madhuri could find time to present herself at an event presided by Shiv Sena supremo Bal Thackeray where she was given the Dinanath Mangeshkar Award.
"This is a state honour, a token of the love of 11 crore citizens. Some stars were free to receive other awards two days ago, but are tied for time to receive a government honour," said Deputy Chief Minister Ajit Pawar.
This comes days after the Shiv Sena targeted Sachin Tndulkar for not responding to several invites by the Sena-led municipal corporation to honour the batting legend for completing his 100 centuries.
Already miffed that Sachin's presidential nomination to the Rajya Sabha came with the backing of the Congress, the Sena is contemplating reviewing a proposal where a toll plaza on the outskirts of Mumbai was to be named after Sachin.
"Sachin is being honoured by others. So the BMC (BrihanMumbai Municipal Corporation) honouring him really must not matter to him. This is an insult to the Mayor. We must understand him and end this by honouring him by just writing a letter," said Shubha Raul, ex-Mayor and a sitting Member of the Legislative Council.
Madhuri has now joined a long list of celebrities who have been in the line of fire of political parties who feel snubbed by celebrities, like Amitabh Bachchan, Shah Rukh Khan and Sachin Tendulkar. These celebrities have been targeted just because they have chosen not to toe the line of a particular political ideology. And these are attacks on soft targets that may make national headlines but do little to increase the credibility of political parties.