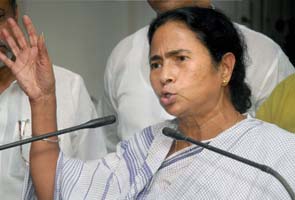 New Delhi:
The Lok Sabha is expected to take up a Trinamool Congress sponsored no-confidence motion against the Manmohan Singh government. Mamata Banerjee's party has formally given a notice today.
Ms Banerjee has 19 Lok Sabha MPs; she needs 50 to support a no-confidence motion to have it accepted. Lok Sabha Speaker Meira Kumar will decide whether to accept the motion. The Speaker will call the Leader of the Trinamool Congress in the Lok Sabha, Sudip Bandopadhyay and see if 50 MPs rise to support the party's motion.
Before the session began this morning, Mr Bandopadhyay told NDTV that his party was determined to go ahead with the no-trust vote. "It does not matter if we have support or not. We have decided to move the no confidence motion. We are not guided by the CPM or the BJP."
Ms Banerjee contends that after her exit in September this year, the UPA government is in minority and did not have the authority to push Foreign Direct Investment (FDI) in multi-brand retail. She has also accused the government of being "steeped in corruption".
The Trinamool chief has been trying to garner the support she needs for the no-confidence motion, even offering to back one instead if the Left parties, her arch-rivals, move it.
The CPM has categorically said it will not support Ms Banerjee's motion. The BJP has been less direct but is not inclined to give Ms Banerjee centrestage by backing her motion.
Both the Left and the BJP have said they prefer to corner the government on FDI in retail and press for a discussion and vote under Rule 184 on the issue.
They calculate that the government will defeat a no-trust vote with ease, helped by parties like the Samajwadi Party and the BSP, which provide external support. But on FDI these parties might find it more difficult to align themselves with the government. Samajwadi Party chief Mulayam Singh Yadav has been a vocal opponent of FDI in retail.