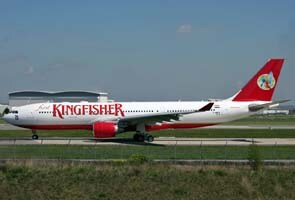 New Delhi:
Kingfisher Airlines, owned by billionaire Vijay Mallya, cancelled 50 flights today. Sources in the airline say the cancellations are likely to continue, as the management continues to struggle with a financial crisis.
Over the last four days, 120 flights were cancelled. The Directorate General of Civil Aviation (DGCA), which is the regulatory body for airlines, has said that Kingfisher has been sent a notice to explain why. Rules mandate that airlines need permission from the DGCA before rescheduling flights - a seven-day notice has to be served for flights that are being discontinued. The DGCA also asked Kingfisher how to plans to compensate the passengers whose flights have been affected.
Lalit Doshi showed up at the Delhi airport to catch his flight to Jaipur, only to find it wouldn't be taking off. "They call us two hours earlier, then they tell us the flight is cancelled, it is such a waste of time," he said.
Aviation sources said 30-odd pilots and cabin crew have not reported for duty in the past few days on grounds of sickness, but discounted reports that 100 pilots had quit the airline recently.
Over the last few months, Kingfisher's skies have darkened. Losses of over 1000 crores for this financial year and bank loans worth 7000 crores have hit the airline's performance hard.
Jet fuel supplies were stopped by state-run HPCL as the airline owes about Rs 600 crore to it, aviation sources said. BPCL is also not supplying fuel to the airline following an ongoing court case over alleged non-payment of about Rs 250 crore dues. Indian Oil Corporation has stopped credit to the airline and put it on a cash-and-carry mode, implying that it would have to pay for fuel on a daily basis.
(With PTI inputs)