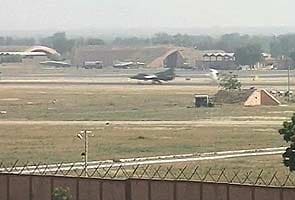 Jodhpur:
Already grappling with allegations of land scams in Sukna, Malad and Srinagar, the Ministry of Defence is facing another major land scam in Jodhpur, barely 100 metres from the city's Air Force base.
An RTI activist in Jodhpur has alleged irregularity in the manner in which the 6.5 bighas of land, allotted to the Air Force 27 years ago, was handed over to a private builder for construction of an upscale housing project at the site.
The activist - Ram Singh - raised questions how the private builder was able to use the land, earmarked as a high security zone, for commercial purposes despite written objections from the Air Force, and why the Ministry of Defence never took possession of the land allotted to it in 1985.
Speaking to NDTV the activist said, "I have been consistently writing about this issue to the state government, the collectorate and the Jodhpur Development Authority but no action has been taken so far."
However Defence officials claim that the land was not mutated because of disputes over demarcation. Colonel SD Goswami, public relations officer of the Army said, "There was some observation on demarcation which I have brought to notice of the Defence, state officials and district administration. Mutation of this land was not carried out since 1986."
After Mr Singh raised the issue, the Ministry of Defence has ordered a thorough inquiry into the allegations. Even local authorities have promised to take action against perpetrators. Jodhpur's district collector Gaurav Goyal assured, "We will have the matter inquired into and punitive action will be taken against guilty officials."