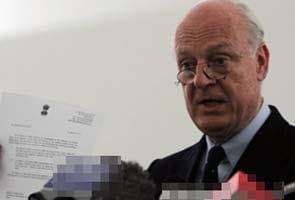 New Delhi:
Italy's deputy foreign minister Staffan de Mistura urged India on Friday to bring two Italian marines facing murder charges to court quickly as they returned to face trial in New Delhi.
(Read)
"The sooner we see the special court going ahead and concluding the better it is," de Mistura told a press conference at the Italian embassy, adding: "In the current circumstances the matter of a very few months would be the ideal."
(Read highlights of press conference)
The marines were arrested in India in February 2012 after shooting dead two fishermen while guarding an Italian oil tanker sailing off India's southwestern coast.
After they were granted bail by the Supreme Court to fly home to vote last month, Italy announced it would not return the men, sparking fury in New Delhi.
De Mistura said a "diplomatic crisis" had been averted with the return of the men to New Delhi and he acknowledged the U-turn in Rome might "be appearing a bit odd."
(Read: Marines' return to India stirs anger in Italy)
The change of heart came after Italy received an undertaking from the Indian government that the marines did not face the possibility of the death penalty, which is handed down in India for the "rarest of rare" crimes, he said.
"For us the death penalty is a no-no," he explained. "Can you imagine for our own military? It is even more of a no-no."