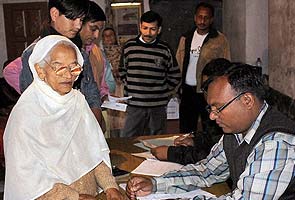 Shimla:
The battlelines are firmly drawn as polling is underway for the 68-member Himachal Assembly where both the ruling Bharatiya Janata Party (BJP) and the Congress are jostling for the attention of voters. By 2 pm, the state had witnessed 45 per cent voter turnout.
While the BJP led by Chief Minister Prem Kumar Dhumal is hoping for a historic second term, the Congress is looking to its tallest leader in the state, Virbhadra Singh, for a comeback. But, the crucial anti-incumbency factor seems to have been overridden this time by the twin issues of price rise and corruption this time around.
(Pick your constituency, have your say)
"There is no incumbency factor...we are hoping to get 45 seats...we are confident that we will win the elections," Mr Dhumal told NDTV.
Himachal Pradesh, much like Punjab, has never repeated a government since 1977. A victory for the BJP then will see a re-run of Punjab, where the Akali-BJP combine returned to power against historical projections earlier this year. A loss, on the other hand, will see the Congress repeating an Uttarakhand, where it narrowly pipped the BJP to form government.
Even though it's a straight fight between the BJP and the Congress, both of who are contesting all 68 seats, several smaller players could hold the key to government formation. The Bahujan Samaj Party (BSP) has fielded 66 candidates followed by Himachal Lokhit Party with 36 candidates. The Trinamool Congress, with 25 contenders, will be hoping to open its account in the state while the Samajwadi Party is fielding 16 of its candidates. Others in the fray are: Communist Party of India-Marxist (15), Nationalist Congress Party and Swabhiman Party (12 each), Communist Party of India (7), Shiv Sena (4) and 105 Independents.
In all, 459 candidates are in the fray for today's elections, 27 of them women.
Polling began on a slow note this morning with just 15% of voters exercising their franchise in the first three hours. "Atleast seven EVMs were replaced due to malfunctioning, four of them in Kullu and one each on Shimla and Bilaspur," Himachal's Chief Electoral Officer Narinder Chauhan said.
As many as 7253 polling stations have been set up, including the highest polling station in Hikkim in Lahaul and Spiti at a height of over 15,000 feet.
Counting will take place on December 20.
In the 2007 poll, BJP had won 41 as against Congress 23, while the independents and BSP won three and one seat respectively.
Corruption in both the BJP and Congress camps is a major election issue in the state, with the latter facing graver charges in the wake of a slew of scams.
Though corruption charges have flown thick and fast throughout the period of campaigning, the Congress has somehow managed to neutralise their effect by launching a counter-offensive against Mr Dhumal and his Cabinet colleagues. Virbhadra Singh has openly accused the chief minister of giving away chunks of prime land to private players at throwaway prices.
The much-hyped BJP offensive against Virbhadra Singh on corruption in the wake of a series of graft allegations against him got diluted after the Congress launched a counter-offensive against the BJP in wake of allegations of "dubious" funding by companies of its President Nitin Gadkari.
In fact, by the end of canvassing on Friday, corruption had taken a rear seat with price rise emerging the strongest.
The BJP leadership has used the LPG cap and diesel cost hike issues well to push the Congress to the wall by telling the voters how their household budgets would go for a toss.
In Himachal, where rail network is negligible, diesel is the lifeline of economy and at home, LPG remains a must-have in the absence of alternative fuels.
Mr Dhumal tried to woo 22.31 lakh women voters by projecting free induction hotplates as his answer to the Congress' LPG cap. In view of the political sensitivity of the issue, the Congress too scurried to announce a rollback late on Thursday night, just hours after announcing a hike in the price of non-subsidised LPG cylinders.
Though national and local issues would impact election results in their own way, the emergence of BJP rebels under the umbrella of Himachal Lokhit Party (HLP) has made the fight interesting.
In 12 segments out of 68, rebels will make a huge difference. That's a critical factor considering in 2007 elections, the victory margin in 22 seats was less than 2500 votes and in another 40 segments it was less than 5000 votes.
In such a scenario, the power of Mr Dhumal and Mr Virbhadra to swing votes at the last moment will matter. The ground situation indicates that while the BJP may perform better in smaller districts like Hamirpur, Una, Kullu, Chamba, Solan and Nahan, the Congress will retain its hold in Shimla and Kangra districts. In Kangra, BJP rebels will mar the party's chances.
Today's elections will decide the fate of several key players. For two time chief minister Dhumal, a repeat victory would mean a stronger position within the BJP ahead of 2014 Lok Sabha polls and the party taking itself forward strongly in the next elections.
For Virbhadra Singh, who is fighting his last elections, winning is a matter of prestige considering the Congress hasn't projected him as the chief ministerial candidate. Maheshwar Singh, the former BJP Himachal Chief and head of HLP, is also keen to make a point by toppling the BJP applecart in and around Kullu, his home district where he is a "raja".
(Himachal Pradesh polls: List of heavyweights)
Also on watch will be 84-year-old Vidya Stokes of the Congress, the oldest candidate in the run, who is fighting her Marxist nephew in Theog.
Today's poll will also see 96-year-old Shyam Saran Negi of Kalpa village in Kinnaur district of Himachal Pradesh, cast his vote. He is considered as the first and oldest voter in the country as per Election Commission records.
Meanwhile, elaborate security arrangements have been made for the elections.
Around 9,000 personnel from paramilitary forces and 14,000 from state police have been deployed on election duty.
In addition, 35,000 polling staff and home guards are also on duty.
Polling station number 19 (ITI Dari) of Dharamsala will be the first in the state to be put on web broadcast.
District Election Officer Kangra K R Bharti said, "The voting in the three booths of this polling station can be seen live on our official website."
An estimated 46.08 lakh electors including 23.76 lakh male and 22.31 lakh female, 74,646 service electors and 1,162 visually impaired electors would seal the fate of 459 candidates in Electronic Voting Machines (EVMS).
Special arrangements have been made to keep the EVMs under high security after polling till the date of counting on December 20. As many as 39 strong rooms have been set up to keep the 9,192 EVMs under high security and 13 companies of paramilitary would guard the strong rooms.
Helicopters have been pressed into service for air-lifting EVMs, polling personnel and polling materials before and after the poll in the far-flung and snow-bound tribal areas of the state.
Out of total 7,253 polling booths, 1,310 booths have been declared as sensitive while 767 booths have been categorised as hyper-sensitive.
140 identified Naka (check points) have been set up besides 90 flying squads to monitor any illegal carrying of cash, liquor or any other suspicious item.
In addition, 84 inter-state barriers have been set up at sensitive locations.
(With PTI inputs)