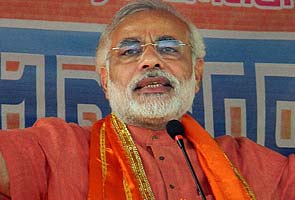 New Delhi:
Gujarat Chief Minister Narendra Modi will be in New Delhi on Thursday to finalise candidates for the first phase of the assembly elections in the state.
"Modi will arrive in the capital on a flight from Ahmedabad between 3 p.m. and 4 p.m. Thursday afternoon," said an official of the Gujarat Bhavan in New Delhi.
Mr Modi will be attending a meeting of the Central Election Committee (CEC) of the Bharatiya Janata Party (BJP).
The filing of nominations has already begun following the notification by the Election Commission on November 17. Elections in the state are being held over two phases on December 13 and 17. The votes will be counted on December 20.