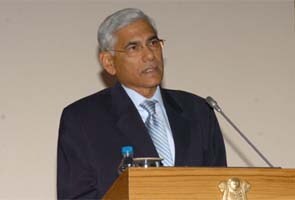 New Delhi:
For the government, encompassed by charges of corruption, the country's auditor or CAG has been a super-storm. In detailed reports, Vinod Rai, Comptroller and Auditor General (CAG), said that the government's mishandling of the telecom and coal sectors caused losses adding upto nearly four lakh crores or 75.5 billion dollars.
Mr Rai's estimates and opinions have been challenged repeatedly by the government, but have adrenalised the movement led by anti-corruption campaigners Anna Hazare and his now-estranged protégé, Arvind Kejriwal.
The latest instalment in the narrative of the government vs its auditor has played out at a session of the World Economic Forum being held in Gurgaon. Mr Rai said yesterday that the government had been taking decisions with a "brazenness" that was "appalling" but praised the Right to Information Act, introduced by the government, for increasing transparency.
He also said that the country's main investigative agency, the CBI, has become "the handmaiden of the government in power." Mr Rai said that it's essential that the CBI and the Central Vigilance Commission, which is in charge of tackling and investigating corruption within the government, be given constitutional status so that they are answerable only to Parliament. Without this, he said, they will not be able to function without interference and influence from the government they report to.
The government and the Congress party were quick to object. Information Minister Manish Tewari said that "If he talks about brazenness in decision-making and if it refers to the period of this particular government, I think it would be worth his while to recall that he was part of the same government from 2004 to 2008. And I guess, when he talks about brazenness, that paradigm equally applies... to everyone who was part of the government." Mr Rai has held senior positions in the Ministries of Commerce and Defence. Prior to his appointment as CAG, he served as Secretary, Financial Services and Additional Secretary in the Banking Division under the Ministry of Finance.
Congress General Secretary Digvijaya Singh sarcastically thanked Mr Rai for his "valuable advice" on providing constitutional status to the CVC and CBI and then gave Mr Rai some of his own. Mr Singh "wondered why" the auditor is unable to stop his financial reports from being leaked to the media before they are submitted to Parliament.