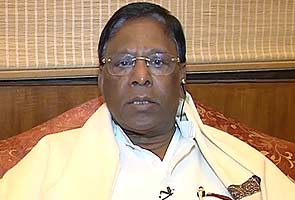 New Delhi:
Minister of State in the Prime Minister's Office, V Narayanasamy, has denied reports that the government is considering making the office of the Comptroller and Auditor General (CAG) a multi-member body.
The minister rejected a Press Trust of India (PTI) report which said that the government, which has been battling attacks from the opposition over various CAG reports on alleged scams, was "actively" considering such a proposal.
The PTI report had quoted Mr Narayanasamy as saying, "It (making CAG a multi-member body) is under active consideration. The government is actively considering it."
Mr Narayasamy told NDTV, "I did not say that. The correspondent from PTI called me for an interview...he did not specifically ask me about CAG...I didn't reply specifically about CAG...he misquoted me saying that the government is considering making CAG a multi-member body...he was putting words in my mouth."
The minister also made it clear that the government had no plans of changing the constitution of the CAG in the near future. "The honourable Prime Minister, about three days back, made it very clear that the present status of CAG will remain...that makes the position very clear...there is no re-think on the part of the government at present," Mr Narayanasamy said.
The PTI report had said that the Centre is mulling a proposal by a committee headed by former CAG VK Shunglu, that the government's auditor's office be turned into a three-member body. The controversy comes at a time when the government and the CAG's office have increasingly been at loggerheads over the latter's reports on several alleged scams. The Centre, on its part, has repeatedly challenged CAG Vinod Rai's financial estimates and opinions that the 2G spectrum and coal scams collectively cost nearly four lakh crores or 75.5 billion dollars to the national exchequer.
In the latest installment of the sparring, Mr Rai, on Wednesday, said that that the government had been taking decisions with a "brazenness" that was "appalling" but praised the Right to Information Act, introduced by the government, for increasing transparency. Mr Rai was speaking at a session of the World Economic Forum held in Gurgaon this week.