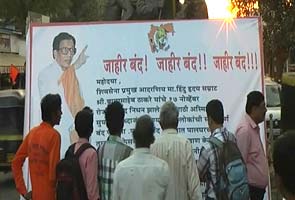 Palghar:
Schools, colleges and markets in Palghar, Maharashtra are shut today for a bandh called by the Shiv Sena against the suspension of police officers who had arrested two girls for their Facebook posts on party founder Bal Thackeray's funeral.
Around 500 security personnel are on duty in Palghar taluka of Thane district. The courts are open, but very few people have turned up. Posters have come up on the streets asking the people to support the shutdown.
The family of the girl who had put up the Facebook post is not in Palghar today.
"We are observing the bandh to protest against the suspension of the policemen in the case," said Sudhir Tamore, Shiv Sena's head in Palghar.
Eknath Shinde, Shiv Sena MLA from Thane, criticised the suspension of the two police officers. "The police acted as per the prevailing situation. Even the girls do not have any complaint against the police," he said.
Thane rural SP Ravindra Sengaonkar and senior police inspector in Palghar, Shreekant Pingle, were suspended on Tuesday and a departmental probe ordered against them for applying wrong charges against the two girls who were arrested on November 19. Additional SP Sangram Nishandar was "warned in writing and reprimanded" for dereliction of duty.
The Bombay High Court had on Tuesday transferred the judge who sent the two girls to judicial custody after their arrest. First class judicial magistrate Ramchandra Bagade was transferred to Jalgaon from Palghar with immediate effect.
One of the girls had questioned on Facebook Mumbai's shutdown on November 18 for Mr Thackeray's funeral. Her friend had 'liked' the comment.
The girls were arrested and charged under various laws, including controversial sections of the Information Technology Act. Shiv Sena workers vandalised the clinic of one of the girl's uncles.
The girls were released on bail after a public outrage over their arrest. While action has been taken against the police officers, it is not clear if, and when, the charges against the girls will be dropped and who will compensate for the damage to the vandalised clinic.