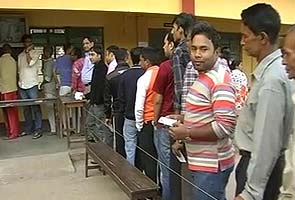 Shillong:
With just two days left for counting of votes, efforts are underway in Meghalaya to form a non-Congress alliance.
The United Democratic Party (UDP), coalition partner of ruling Congress in the current assembly, and PA Sangma-led National Peoples' Party (NPP) had held a meeting on Tuesday night in this regard, sources from the parties said in Shillong on Wednesday.
Though the parties were officially not ready to say anything on the development, the sources said Mr Sangma, his son Conrad K Sangma and top UDP leaders were present at the meeting.
Moves were also afoot to include other parties in the alliance and for which talks are on with Hill State Peoples' Democratic Party (HSPDP) and BJP, they said.
Interestingly, the Congress is also trying to retain the UDP and a few independents to form the next government, the sources said.
Congress is hoping to bag 25 seats, the same it had secured in the 2008 election.
The Congress has fielded candidates in all 60 seats, while the UDP contested in 50 seats and hoped to get at least 15 seats.
The UDP claimed it would be the key party in forming government. "We will win in at least 15 constituencies in the Khasi Jaintia Hills and the Garo Hills region," UDP working
president B M Lanong said.
He claimed UDP and Congress would emerge as the party with majority wins.