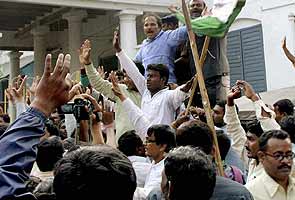 Murshidabad:
On camera, a violent mob is seen at a government official's bungalow in West Bengal's Murshidabad district, flinging chairs, pulling down clotheslines, breaking flower pots and clambering on to a parked jeep and smashing its windows and windshield.
This was a group of Congressmen attacking Murshidabad District Collector Rajiv Kumar's bungalow in Behrampore yesterday. Junior minister for railways at the Centre Adhir Ranjan Choudhury was present; he has since told NDTV, "You are making a mountain out of a molehill...I will not apologise to anyone... If there is anything wrong, the police is free to take action against my workers and me."
Mr Choudhury, who is the Congress MP from Behrampore, says his party workers have a right to protest. The minister, seen atop the parked jeep, has also denied that he led the mob, saying he was trying to calm them down. His partymen, he says, were upset at the Collector's failure to accept a memorandum demanding an investigation into a Congress worker's death. The official had asked his deputy to accept it instead.
Mr Choudhary reportedly called Mr Kumar, who said he was otherwise occupied. The minister then led a march to Mr Kumar's bungalow, which also doubles as his office, and the Congress workers went on the rampage.
The minister said the group had gone to the bungalow only to submit their demand and that the workers got agitated at finding "that the bungalow was under lock and key." He also said, "I don't know the definition of vandalism," and took umbrage that, "you don't criticise the indifferent attitude of the DC."
The police arrived only 15 minutes after the vandalism began and the irate Congressmen far outnumbered the cops. Matters were settled only after Mr Kumar met the Congress delegation and accepted its memorandum.