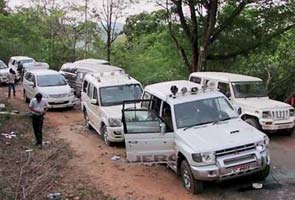 Raipur:
A security officer and a driver, accompanying Congress leaders, allegedly shot themselves with their last bullets after exchanging heavy gunfire with suspected Maoists in Chhattisgarh's Jagdalpur district on Saturday. 24 people, including top Congress leaders, were killed and 32 others injured in one of the deadliest attacks the state has witnessed.
Senior Congress leader Mahendra Karma and Chhattisgarh Congress chief Nand Kumar Patel were shot dead in the attack. Former union minister and Congress leader Vidya Charan Shukla is critical in a hospital in Gurgaon, where he was flown to yesterday morning. (
Read
)
According to reports, attackers, numbering around 250, blasted a heavy Improvised Explosive Device (IED) to stop the convoy and then fired indiscriminately. Although the security men travelling with the Congress convoy fired back, they soon exhausted their ammunition and were cornered. (
Read
)
"Sorry, Our bullets r finished, we failed to protect u said V C Shukla's PSO & Nandkumar Patel's driver & shot themselves with the last bullets," Surendra Katchh, a family friend of Mr Karma, tweeted yesterday.
After the dozen-odd security men ran out of ammunition, the suspected Maoists reportedly surrounded the convoy, took away the mobile phones of the leaders and then shot them in cold blood.
Mr Karma was a local tribal leader, who spearheaded the controversial anti-Naxalite movement Salwa Judum. He had served as the state's home minister when the Congress was in power. He had survived an assassination attempt last year and had Z-plus security.
Sources say there are indications that the local police and the top Congress leaders of the state might have ignored standard operating procedures that are considered crucial in Naxal-dominated regions.