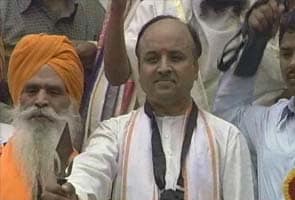 New Delhi:
The Maharashtra government is under pressure to act against Vishwa Hindu Parishad leader Praveen Togadia for allegedly making provocative speeches in the state. The Centre has asked it to investigate the allegations, and one of its own ministers says, "Book Togadia."
The union Home Ministry has asked the Prithviraj Chavan-led Maharashtra government to confirm forensic evidence that Mr Togadia made a provocative speech against one community in Bhokar town of the state's Nanded district on January 22.
Minister of State for Home RPN Singh said today, "If Togadia's speech is inflammatory, the state government must take action against him." Law and order, he pointed out, was a state subject.
Maharashtra Home Minister RR Patil of the Nationalist Congress Party said he had asked for a report, but his colleague, Minister for Minorities Affairs Naseem Khan, was more categorical, saying: "I have heard the speech. Prima facie there is enough evidence to book Praveen Togadia. He is clearly trying to divide communities in an attempt to polarise them before the elections."
Mr Khan urged the Congress-NCP government that he is a part of to register a case against the VHP leader. "If Owaisi was booked so should Togadia. We cannot have double standards," he told NDTV.
In neighbouring Andhra Pradesh, also ruled by the Congress, Akbaruddin Owaisi, a member of the legislative assembly and leader of the Majlis-e-Ittehadul Muslimeen, has been in jail since last month for making hate speeches in Adilabad district of that state, not far from where Mr Togadia made his speech, only a few days later.
Sources in the Maharashtra government, which has assured the Centre of action, say it has not acted yet as there is no complaint against Mr Togadia. Nanded Superintendent of Police, Vithal Jadhav, said police present when the VHP leader made his speech "did not find it communal".
The Maharashtra government is now conducting a fresh review in consultation with lawyers and has reportedly ordered a forensic examination of a recording of the VHP leader's speech.
Congress leader Digvijaya Singh and CPM's Sitaram Yechury too have sought action against Mr Togadia.