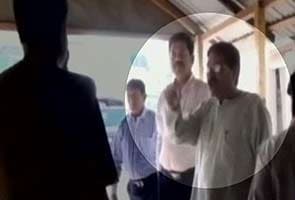 Agartala:
An MLA from the ruling CPM in Tripura has been caught on camera threatening policemen while demanding the release of two of his party workers.
Shankar Prasad Datta barged into an East Agartala police station on Wednesday afternoon and entered into an argument with the officer-in-charge of the police station. Mr Datta was later captured by cameras misbehaving with the cop and even forced the latter to free the two party activists who had been detained in a case related to firing in a busy market area earlier in the week.
The MLA later denied having demanded the release of the two accused.
The incident comes barely two weeks after an MP from the ruling Congress in Kerala was arrested after stormed into a police station in Kannur, demanding the release of a party functionary. Last month, a Congress MP from Porbandar in Gujarat, Vitthal Radadiya, was caught on camera pulling out a gun, brandishing it and threatening employees at a toll plaza near Vadorara. The MP refused to apologise, justifying his action by saying he acted in self defence, although no other person was seen anywhere near him on camera for most part. The Gujarat High Court had recently slammed the lawmaker, terming the incident as "unfortunate".