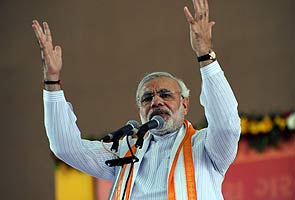 New Delhi:
Gujarat Chief Minister Narendra Modi is expected to grab the limelight at a key strategy meeting of the Bharatiya Janata Party's (BJP) national executive committee that began in Delhi today.
At the meeting, BJP leaders will endorse new party chief Rajnath Singh's appointment and discuss preparations for general elections to be held next year and assembly elections in important states before that.
This is the first meeting of the BJP's national executive after Mr Modi scripted a third, straight victory in the Gujarat Assembly elections in December; there has been a clamour since among party workers, particularly Modi loyalists, that the Gujarat Chief Minister be declared the party's candidate for Prime Minister.
Some senior party leaders like Yashwant Sinha too have suggested in public fora that Mr Modi be given an opportunity to extend his skills at winning elections on the national stage. An uncomfortable BJP has requested leaders to be more circumspect.
What the party is expected to do for now is to give Mr Modi a pivotal role in blue-printing the party's campaign strategy for the 2014 general elections, but that announcement is unlikely to be made at the Delhi meeting which begins today.
The party will freeze plans for Assembly elections in various states to be held in the next year, with special focus on Karnataka, which has the BJP's only government in the south.
Elections are due in Karnataka by June this year and the party's task of retaining power has been made all the difficult by the rebellion of former party strongman BS Yeddyurappa, who had won Karnataka for the BJP in 2007.
The party has also begun preparations for Assembly polls later this year in Rajasthan, Chhattisgarh, Madhya Pradesh and Delhi.
The BJP's strategy in parliament will also be discussed at the meeting; the Budget session is on and the BJP aims to put the Congress-led UPA government on the mat on several issues like price rise, corruption and internal security.