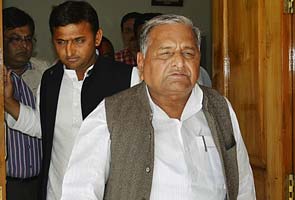 New Delhi:
The Supreme Court today ruled that the Central Bureau of Investigation's (CBI) probe into the alleged disproportionate assets of Samajwadi Party chief Mulayam Singh Yadav and his son Akhilesh Yadav would continue.
The court said there will be no probe against Mulayam Singh Yadav's daughter-in-law Dimple Yadav as she did not hold an office of profit at the time the inquiry was started.
On March 1, 2007, the top court had ordered a CBI inquiry against Mulayam Singh Yadav, sons Akhilesh Yadav and Prateek Yadav and daughter-in-law Dimple Yadav on a public interest litigation (PIL) filed by an advocate in December 2005.
The Yadavs challenged the probe and alleged that the PIL was politically motivated. They said the court's order to start an inquiry would "set a dangerous precedent" of allowing political opponents to file "false and frivolous" petitions against their rivals.
After the Samajwadi Party lost power to the Bahujan Samaj Party in Uttar Pradesh in 2007, the CBI told the Supreme Court it had found prima facie evidence against the Yadavs to launch a criminal investigation.
In 2008, the CBI sought the opinion of then Solicitor General of India GE Vahanvati, who suggested that the probe against the Yadavs be closed. Earlier that year, the Samajwadi Party bailed out the Congress-led UPA government during a trust vote over the Indo-US nuclear deal.
In March 2009, ahead of the Lok Sabha elections for which the Congress and the Samjawadi Party failed to strike a seat-sharing pact, the CBI approached the Supreme Court to start a criminal investigation against the Yadavs.