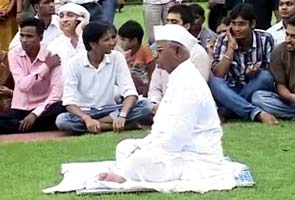 New Delhi:
Anna Hazare went to Rajghat, on Monday, and sat in the lawns in front of Mahatma Gandhi's
samadhi.
The impromptu visit to Rajghat on Independence Day was unscheduled, and visitors were surprised to see the veteran social activist in their midst, sitting in front of the
samadhi
amid light rain. The authorities too were taken by surprise.
After Hazare visited the memorial, hundreds of people came to Rajghat.
Anna's visit comes on the eve of his fast on August 16 for a stronger Lokpal Bill. But tempers are flying high, as the Delhi police have been denied Team Hazare permission to fast at the Jai Prakash Narain Park. Team Anna have retorted that they have the constitutional right to fast and are willing to court arrest.
After Rajghat, Anna left to go to the Constitution club.